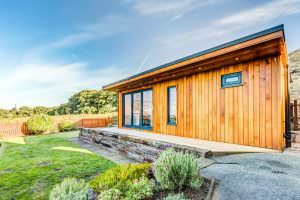 Location: Brighouse, West Yorkshire
The Brief
The couple wanted a functioning office for two people with room to expand alongside their growing business, which could also legitimately be claimed as a business expense.
They loved that the garden room provided the bonus of having a useable social space, outside of office hours.
Our Clients
Laura Hirst:  Laura had been working at home with a colleague on her kitchen table running 'VOX Energy', a renewable energy company which Laura had recently launched. The working conditions for two people were not ideal.
Dan Jones: Dan works as a project manager for Network Rail and has access to a supply of reclaimed sleepers for creating a deck area, steps and complementary landscaping.
The Outcome
To accommodate the 'workers' and avoid them having to go back to the house during working hours we created a kitchenette area and installed a WC. We also included a shed section at one end for Dan.
The view end has a lovely decked area where Laura and her colleague regularly enjoy their lunch breaks thereby making fantastic use of the views across open country on the edge of the Pennines.
Following completion Laura's Company , 'VOX Energy' installed solar panels on the roof space, which are not visible from ground level, to make the unit even more 'green' and showcase their work in the energy reduction sector.