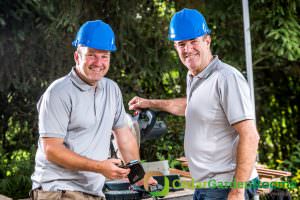 Initially part of Spacemaker Installations, the company, Cedar Garden Rooms, was created by the Uncle and Nephew pair, Andy and Gary Eamonson who have worked together, for over 30 years. They are the dynamic duo; both possessing a wealth of knowledge and practical experience on all aspects of building and business. While one focuses on the details of a project, the other will step back to review everything as a whole. It's this partnership that creates garden rooms that have top quality workmanship and ingenious, multipurpose functions.
The pair have instilled their passion for the creation of stunning garden buildings, in the team. As a company we are a mixture of both family and friends, which means we support each other and in turn you.
Andy and Gary together are your project managers for the build. They will be your first, and final point of contact and involved every step of the way, to help translate your vision onto pen and paper and eventually into a building you can be proud of. Both of them play a hands on role in the installation of your bespoke room, so that when we leave the premises, they are confident in the knowledge that your building meets both yours and their high standards.