What can our Bespoke garden rooms be used for?
Our bespoke garden buildings can be designed to suit all needs, from home offices to summer houses or studios. With full insulation, plastered finish and electrical sockets and lighting, we equip them with everything you could possibly need, so your garden room is suited to your lifestyle.
Uniquely too, we future-proof our garden rooms to be totally flexible and accommodate a change of use overtime: That home office can become a teenager bunker or a gardening pod further down the line.  A huge benefit to using Cedar Garden Rooms is that you do not require planning permission if the height of your building does not exceed 2.5m.
Home offices
Always loosing 'that piece of paper' you left on the kitchen table? Can't concentrate with the comings and goings of the family?
If you need that quiet space to focus on your work and really be productive, there's no better solution than a garden home office. We can design and build a space exactly to your needs, so whatever the nature of your work, we'll make sure your home office matches it perfectly.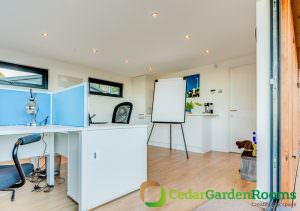 Garden studios
Ideal if you're an artist needing a tranquil space to paint in or a writer needing peace and calm to get your creative juices flowing.
Why not let the garden be your inspiration, rather than the kitchen table? We fit bi-fold doors as standard, so your new studio will be an open, inviting space filled with light, where you can clear your mind and focus on your work in the comfort of your home office.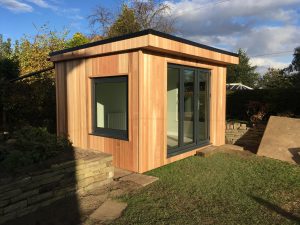 Garden gym
Whatever drives you to run, lift or sweat it out, you can do it from the comfort of your own private place, utilising the space to maximise your work out. Who knows, maybe you could teach a class or two? We can design your home gym in the garden to suit your needs, so if its mirrors and a bar or something soft underfoot that you need, we can accommodate.
Multipurpose summer houses
We love that our customers can get the most out of their rooms: If you simply want a beautiful and relaxing living space to use however you wish, our multipurpose garden rooms are a perfect addition to your property that will transform the overall footprint and value of your home. We have been commissioned to create spaces for a beauty therapist and hairdressing business, a home gym and workout area, a chill out room complete with a bar, a bunker for teenagers and also, quite simply a (soundproof) place for our client to explore their musical talents!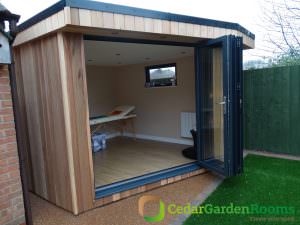 If you would like an informative, honest chat about what we can provide you with, call us today on 01924 820 555.