If you're looking to transform your garden into a hub of amusement and joy, a garden room can be the perfect solution. Not only does it offer a serene space to unwind, but it also provides a versatile canvas to craft your dream entertainment room. In this article, we'll explore the myriad possibilities of creating a cosy oasis for movie nights and exciting game gatherings right in the comfort of your garden room.
Embrace the Essence of Entertainment
Entertainment is more than just a pastime; it's a way of bringing people together and creating lasting memories. Imagine a cosy retreat where you and your loved ones can gather to enjoy movies or engage in spirited game nights. A garden room provides precisely that—a dedicated space that exudes the essence of entertainment.
Movie Magic: A Theatre in Your Backyard
1. Theatrical Comfort and Ambiance
Turn your garden room into a mini theatre with plush seating, dimmable lights, and blackout curtains to replicate the true cinematic experience. Sink into comfortable recliners and let the ambience transport you to a world of movie magic.
2. Immersive Sound and Visuals
Install a high-quality sound system and a large screen to enhance the audio-visual experience. Whether it's the latest blockbuster or an all-time favourite, the immersive setup will make every movie night memorable.
3. Personalised Snack Station
Set up a snack station with all your favourite movie treats. From popcorn and nachos to candy and soft drinks, having a variety of snacks on hand will add to the cinematic enjoyment.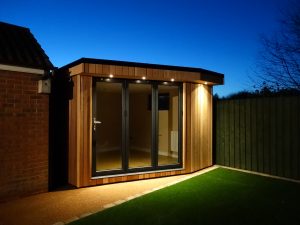 Game On: Fun and Frolic for Everyone
4. Versatile Game Tables
Opt for versatile game tables that allow you to switch between different games, such as pool, foosball, and air hockey. These tables are perfect for game nights with friends and family.
5. Board Games Galore
Incorporate a collection of board games suitable for various ages and interests. Board games can bring people together and create laughter-filled evenings full of friendly rivalry and camaraderie.
6. Digital Gaming Haven
Set up gaming consoles and screens for digital gaming enthusiasts. From classic favourites to modern releases, a dedicated gaming zone within your garden room is sure to delight gamers of all ages.
Designing Your Dream Entertainment Room
7. Space Utilisation and Layout
Optimise the layout of your garden room to accommodate seating arrangements for movies, game tables, and a snack area. Strive for a balanced design that allows free movement and easy access to entertainment zones.
8. Personal Touch: Decorating and Styling
Inject your personality into the design by choosing décor that reflects your tastes and preferences. Add movie posters, wall art, or memorabilia to infuse character into your entertainment space.
9. All-Season Comfort
Ensure your garden room is well-insulated and equipped with heating and cooling solutions, allowing year-round enjoyment regardless of the weather outside.
Yorkshire: The Perfect Backdrop for Your Entertainment Escape
Nestled in the scenic beauty of Yorkshire, your garden room entertainment oasis is set against a backdrop of lush greenery and tranquil landscapes. The charm of the region enhances the overall experience, making your entertainment retreat all the more delightful.
Transforming your garden room into an entertainment haven is more than just a design choice; it's an investment in your lifestyle. With the ability to host cozy movie nights and exciting game gatherings, your garden room becomes a retreat where leisure meets luxury. So, gather your loved ones and let the good times roll in your very own dream entertainment room!
Contact us today for a no-obligation quote – we're here to help bring your garden dreams to life!